The Bayside Art Show 2019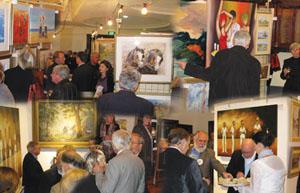 Art Show now closed.
You are invited to the prestigious 49th annual Bayside Art Show.
Exhibition times:
Thursday 15th August from 10am - 6pm
Friday 16th August from 10am - 6pm
Saturday 17th August from 10am - 6pm

Sunday 18th August from 10am - 5pm
The Bayside Art Show is a high profile event, well recognised as the premier art show in Victoria, held in the picturesque venue of the Sandringham Yacht Club, overlooking Port Phillip Bay. An exhibition showcase for all to enjoy over a 4 day period, you'll have the opportunity to view and purchase in excess of 500 carefully selected pieces of professional artwork.
The artwork is always outstanding as it represents original works from leading popular, and emerging up and coming artists from all over Australia. Many are well known exhibiting artists, while others are establishing themselves, which means that the highly curated works will be varied yet interesting.
Always well attended and due to our well regarded reputation, last year was our most successful sales of art and well over 2000 visitors. This year we intend to break even more records. We do suggest you come early if you wish to secure that 'just right' painting!
For the artists we look forward to promoting your art, for visitors we look forward to continuing to make the exhibition a 'must visit' attraction.
Check out a preview of the art works from our latest show.
View the artwork which won awards from our 2019 show.



Since 1974 this has been a Rotary Club of Brighton fund raising initiative, where the majority of monies raised will support the Brighton Recreation Centre, a very vibrant not-for-profit community organisation that provides a diversity of recreational, cultural and sporting activities for all age groups in the Bayside and wider communities.

The remainder of the monies raised support the Club's many ongoing community and humanitarian projects.